I've written before about the importance of lighting in a home. It's so easy to just whack in a central ceiling light, but even if that's dimmable, options are limited. Sure, you can throw in a couple of table lamps too to mix things up, but if you have the luxury of totally re-wiring, or planning from scratch, then you cannot have too many lighting options.
I have a thing for downlighters thought: I hate them anywhere except a kitchen (and you need secondary lighting such as pendants) or a bathroom. Or a utility, you can have them there too. But in living areas, I really think that downlighters are a big no. This is an easy statement to make, it's harder to actually come up with alternatives.
Bathroom lighting is a funny one, not least all the sodding safety requirements (which are of course, for a really good reason) which take your choice from thousands of lights to approximately three. Small tip, outside lighting can of course also be used in bathroom, but tends to lend itself to the more industrial look. If that's your thing then definitely go for outside lighting. It's cheaper too.
Another thing about the luxury of planning, is that you do it on a flat piece of paper. Rooms are not flat, they are 'spaces' and whilst on a flat scale drawing, six downlights spaced perfectly looks amazing, suddenly, when that room is actually built, the ceiling is valuted and you hadn't realised (don't, it's pretty obvious really), and all of the bathrooms would really benefit from a central ceiling pendant too, to add some drama.
Which has led to… some drama…
If you thought your choice of reasonably priced bathroom lighting was limited to start with, add to that the search words 'pendant' or 'chandelier' and you are pretty much giving yourself over to approximately 57 hours of online searching. Well I've done it for you. All of it. You're welcome. At the end of the page I've also linked to several websites that I've found to have a relatively good selection. Prices vary from eye-watering to kidney-selling and all the way back down to quite reasonable.
I thought that I'd start off easy with vanity lighting. For this there are some really good inexpensive options. I didn't like these lights either initially. But since then I've got over myself and realised, it really does help when doing make-up or shaving. Or whatever it is you do in the bathroom mirror. Also, the reality is that I need to get over the downlights and vanity lights and remember that people have them for a reason. They are useful.
Vanity Lighting
This is the Pimlico light from Garden Trading at £45 each (there's always a discount code knocking around though, so have a look)
Also from Garden Trading (no affiliation, just really well priced lighting) is this Montrose swan neck light. It's an outside light, but would also work really well in a slightly industrial bathroom. Currently in the sale at £36.
I wouldn't be doing my job properly if I didn't mention brass/gold, which is currently *the* metal choice for bathrooms. I love it (if you haven't already followed Sarah Sherman Samuel on instagram, then you should, because her interior design is all the gold, both metaphorically and literally… and the terrazzo…. incidentally, if you love the blushes and faded Miami look, head over to the BHS website… they may not do bathroom lighting, but they are bang on the gold/blush trends right now, and have some lovely non IP44 lights ).
This wall light from Jim Lawrence is the Cheltenham, and it's a little more retro than some of the sleek, modern mid-century designs that are cropping up, but it's very lovely, even if they are £157 each.
However, were we to totally suspend budget (tempting, if only for an hour or two, and purely for 'inspo' purposes), this is the Kew light from Porter from £275 depending on the metal finish.
Should you want to put the vain in vanity (hmmm, that doesn't work as well as I'd hoped), then you can create the Hollywood dressing room look with these Dioscuri wall lights from Holloways of Ludlow which are from £114 each. These are IP65 rated so suitable for zone 1 too (see zone diagram below)
I would also highly recommend Etsy… this gorgeous Myrtle wall sconce is bathroom safe, just always ask, as the UK's IP44 is called something different everywhere else.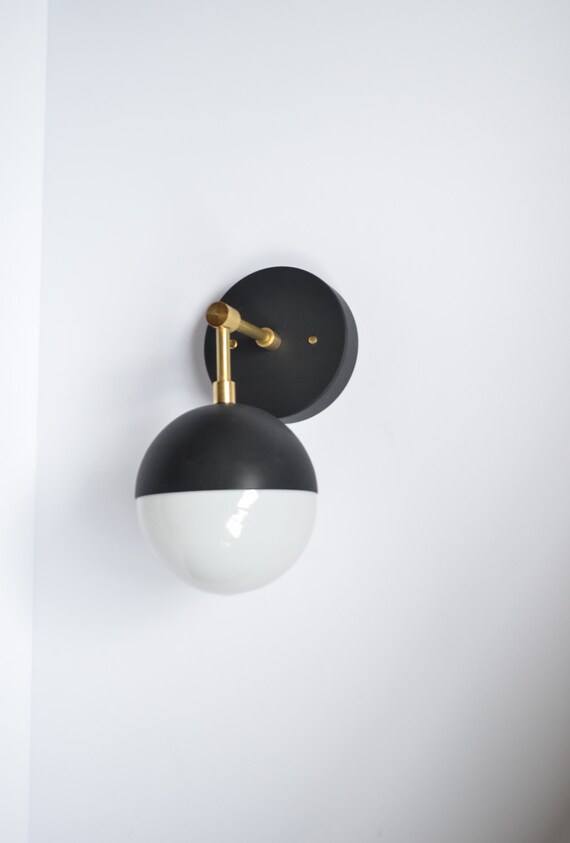 Pendant Lighting for Bathrooms
But now for pendant lighting, aka, my nemesis. An interior design hole that I have fallen down, and am concerned I will never ever be able to pull myself out from, because GOD ALMIGHTY options are limited.
Whereas vanity lighting tends to be discreet and, well put frankly, to light up the mirror so you can see yourself better, pendant lighting in a bathroom is all about the mood and design. Which is why it's so frustrating how little there is on the market. I should rephrase that how little affordable fittings there are on the market. Because if you have £3000 to drop on one light fitting for somewhere you take a shower, then there is plenty.
But who does?
Often flush fittings look like the way to go, not least to get the light firmly up into zone two (see diagram below… you need IP44 for this zone). There are some nice flush lights available, but on the whole they tend to essentially look like balls stuck to a ceiling… and if you're going for something so uneventful, then stick to specialist bathroom downlighters.
So, if you're going for a pendant/ceiling light in the bathroom, go for something worth deviating from a downlighter.
Here's my selection (with varying costs/need to sell a kidney to fulfill)…
One of the biggest issues when looking for bathroom friendly pendant lights, is that they are really, really small. I've clicked on so many beautiful glass lights that turn out to be 18cm in width. That's not going to make a statement. So if you are ordering look at the dimensions really, really closely. I also realised today, walking around the project that the ceilings are really, really quite high, and as a result can take at least a 1.2m drop. Which cuts down the options even more. Fear not, not all of the links below are for vaulted ceilings, but I really do think there is a huge gap in the market for good, affordable, IP44 rated pendant lighting.
The good news is that there are plenty of ourdoor lights that can also be used in a bathroom. It does bring a new take to bringing the outside in… This is the St Ives from Garden Trading.
Should you want a modern look, this Asteroid pendant from Holloway of Ludlow could be perfect. At 30cm diameter, they do look amazing clustered (bathroom size permitting). £170 each
Cluster lights are big at the moment and perfect for high ceilings and vaulted roofs. This is the Waterford Crystal Lagoon £319 found on Lighting Company.
Speaking of clusters, there is of course the DIY option of just buying three of something. This Crystal Cone LED light is modern (tick!), chrome (tick!) and looks gorgeous grouped. £130.76 each from Lighting Style. Apologies for the low res. I'm linking to their shop and everything, but they don't want their images to be high resolution.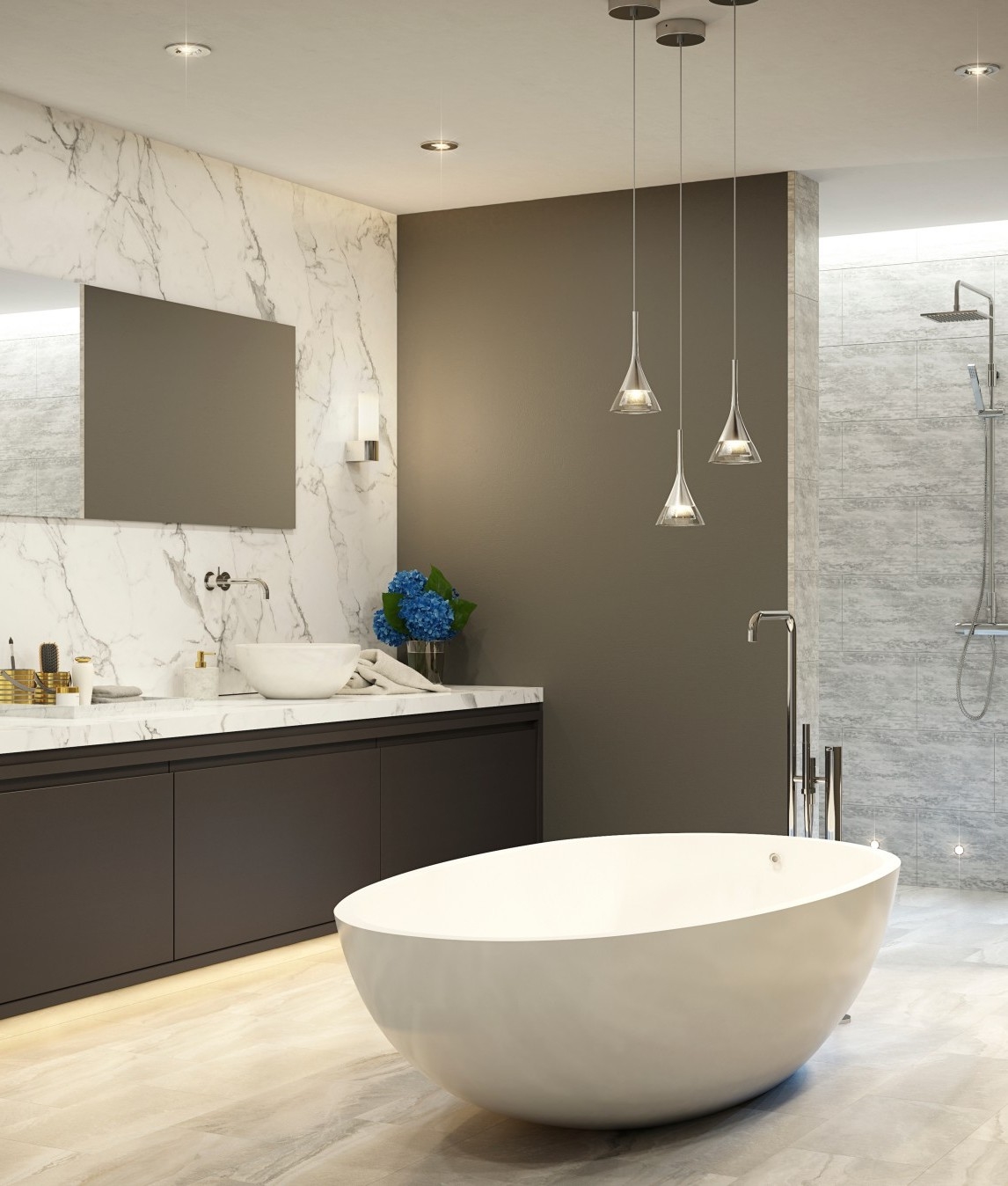 Should you be more into cut glass and chandelier style, then Waterford do a range of IP44 rated chandeliers www.litecraft.co.uk have a lot on sale at the moment. On the whole the house I am looking for is pretty modern. The baths and fittings are not traditional, but quite sleek, so I struggle with putting a chandelier in. Roll top bath and vintage vibe, then I would be all over one of these … this one is the Marquis and £499.95 from Victoria Plumbing.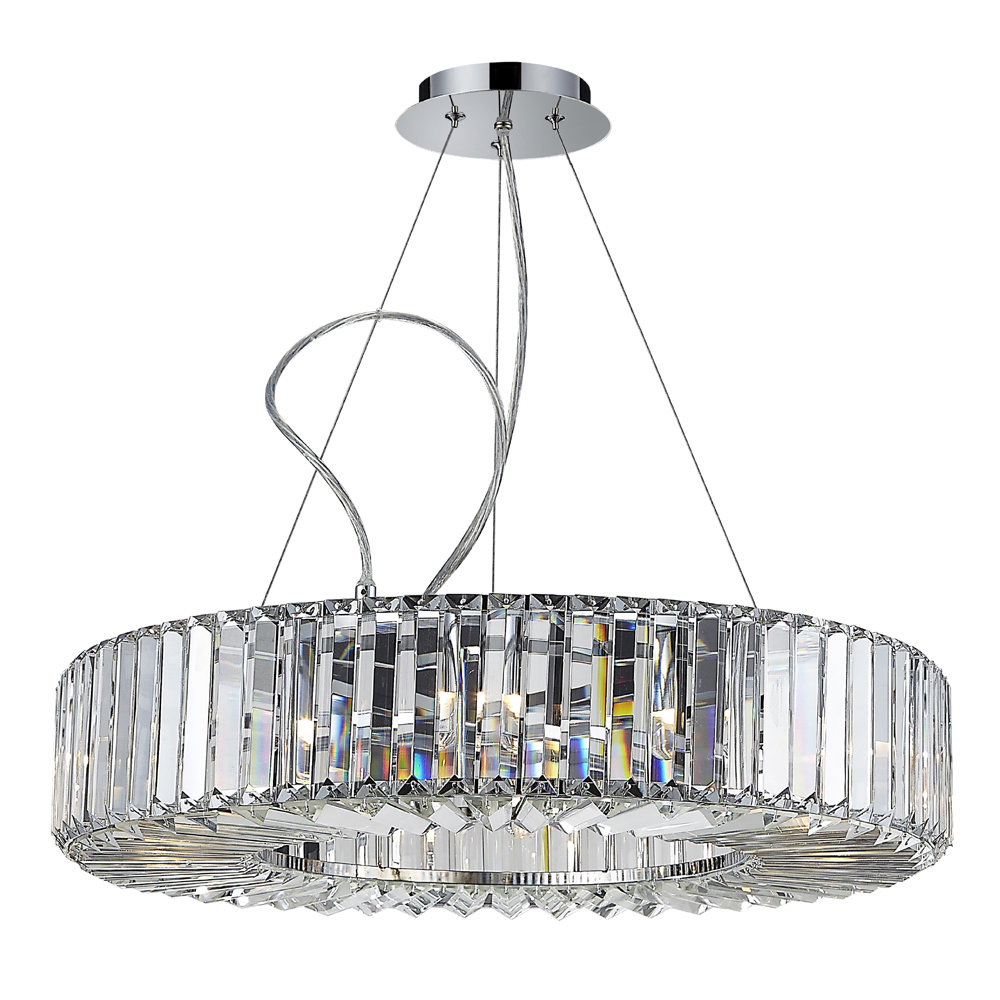 I have, unfortunately, also found ylighting. It's a bad name, but I've forgiven them as the selection of amazing bathroom lights has (almost) made me question my need for, well a kidney. A car. Any new clothes ever again. Oh, and it's dollars, but $1250 isn't that much better in dollars versus pounds. It's too much. But I love it. This is the Calx LED pendant in medium.
They also do amazing outdoor pendant lights. I am assuming these are a thing in parts of America, where the weather isn't 67% rain, 4% barbeque (never on a weekend mind) and 29% bleugh. Alas, even on sale these are $938.40. BUT they are suitable for bathroom use.
Fritz Fryer do a lovely selection of vanity lighting, but also have a few pendant/chandelier options too. This Brampton light comes in three sizes, and starts at £525
However, the good thing is, that spending all my hours on the internet means that I am starting to know the actual rules… and it turns out that the bathroom I am looking for a light for, has high ceilings. Ceilings that do not fall into the zones. Ceilings that could just have a regular light fitting. Technically. But water and electricity do not friends make, so despite my hope that I could reconcile it, IP44 is all I'm looking to install.
Please do feel free to send me links to any companies I'm missing…
The suppliers
Here's a quick directory of sites and companies that I have found for bathroom lighting (except BHS which just has some lovely trendy lighting that you CANNOT use in a bathroom). I have not been paid by any of them, this is just sites which I have found to have a great source of IP44 lighting. And I have looked at a lot….