The monstera has gone to my head. And my heart. Having just got back from our holidays in America, where the succulents grew wild, and all around me palms and monstera took over the grounds of our condos and hotels, I have become a little fixated on how to bring this into my home without, well without going too Del-Boy. It's a delicate balance let me tell you now.
I'm loathe to fix on interior 'trends', because, well trends come, and then they go, and one years Laura Ashley Duck Egg soon needs to be painted over with a statement Farrow and Ball Downpipe, and trends in homes can feel … reactive. And not like they really represent the home owner. However… sometimes and itch needs to be scratched…
So, for all my talk of not following trends though, there's one that I keep coming back to, and it's botanics. From the family of succulents that nestle on my (currently revolting yellow tiled) window sill, to my 'Plant Lady is the new Cat Lady' print hanging in kitchen. And the more I plan the interior of our home, the more and more green seems to be slipping through the 'I'll paint it all white!' cracks. So I thought I'd seek out the easiest ways to bring the botanical into your home, without being *too* concerned about the fact you might want to update it in a few years. Though my love of all things green (with blue, let me tell you blue and green should ALWAYS be seen) is not a passing fad, I've always loved the two together ever since my Mum first told me that 'blue and green should never be seen' circa 1991. Subversive? I try.
A plant is not just for Christmas..
It's for life (though that life is often shortened dramatically by me being entrusted with its livelihood).
There is a reason that succulents and cacti are the go-to house plant currently. Not just that they come in loads of colours, shapes, are set off perfectly by gorgeous ceramics etc… etc…. but – I suspect – mostly because they are very difficult indeed to kill. I am death to house plants. We had one once called Boris. We then had Boris #2. And Boris #3. It's like replacing a hamster for children and pretending that they got a few ginger patch overnight rather than explaining that hamsters die to them. I loved my Boris's but I hastened their demise.
In contrast, I have had a set of five succulents from Homebase that have now lived through three house moves and lived to tell the tale. These bad boys THRIVE on the level of neglect I offer them. They live for it! But  – and here's the rub – once you have one, it's not enough. You can, unfortunately, develop a habit. And that habit deserves to be fed.
Behold: the botanic feature wall (with no wallpaper whatsover in sight). The combination of greys and whites for the post, broken up by the air plants (they don't even need soil!) make me mostly swoon.
Achieve the look with some simple Ikea sheves such as the Mosslanda (but be careful not to buy too big a pot as there is a 'lip' on this, though that does mean you can mix pictures and plants together)
So that the shelves don't look too messy, either mix up the pot colour (stick to two or three, whites, greys, charcoals) or keep the pots one colour but change the sizes.
I like to pick up a plant wherever I go, so each of the plants has a memory for me and of the place, but that's not always practical (or legal, if travelling from further afield do check the legal ramificaions of attempting to import a plant or two)… Botanic Tribe have a plethora of plants on offer, and package them beautifully. You can also pick up the less unusual plants pretty much every where you go now, from Asda to Ikea, so, you know, go forth and shop.
Credits: Geo-fleur
How much print is too much print?
I'm hoping that the Botanic print, might, like Leopard print, soon be defined as a neutral. For now however, it's worth bearing in mind that they still have a bit of a reputation as being '70s. This year there are lots and lots of accessibly priced botatanic fabrics and wallpapers, so you really can inject some greenery on the cheap.
If it scares you in a living room, I am *always* in favour of a statement downstairs loo. It's counter intuitive, but frankly whatever you believe about dark walls = opressive in small spaces, the smallest room in the house can never (in my mind) be either too dark, or too patterened.
The best (and worst) thing about trends is, of course, they get everywhere. So while you can update on the cheap (top wallpaper is £12 from B&Q) you aren't the first to the party… Hit Etsy for some gorgeous options that aren't on the high street.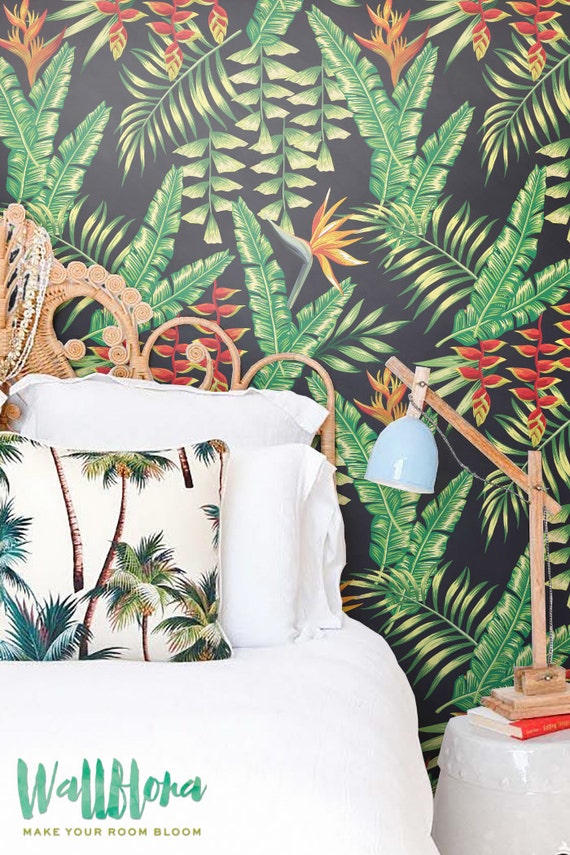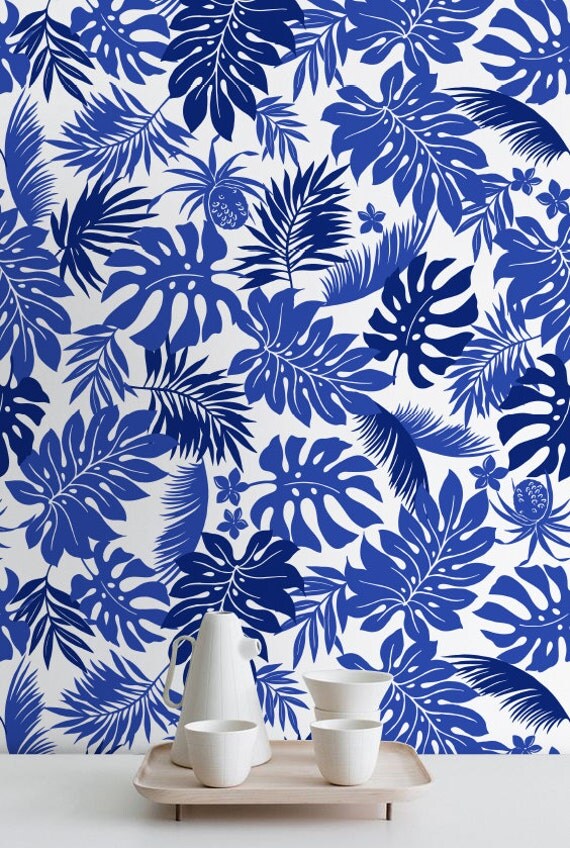 If you don't fancy full wall coverage in print, then there are also loads of amazing prints that you can pop in a frame to get in on the trend (with no fear of having to whip out the wallpaper steamer in a year or two).
(all prints below by Botanic Tribe)
You can never have too many cushions right?
No. You can't. I'm not saying that you have to use them all at once. You could. That would work. But there is nothing like a new cushion cover to make you feel like you've changed the room, without spending too much money. I hasten to add, that it's worth getting feather inners (if you can bear it and aren't allergic). These can be pricey, but I get mine off Ebay for about £5 each. And they don't go flat.
Cushion covers top to bottom: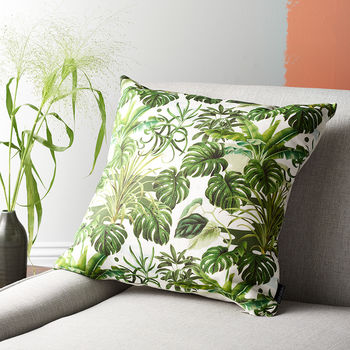 Or, if you're handy with a sewing machine, you can always DIY… (here I would recommend steering clear of the Designer's Guild website where I found the most beautiful fabric – below – but it turned out to be Lacroix….)
Somehow botanics + kitsch works.
Really. From the cacti salt and pepper holders, from Oh Deer, to this gorgeous candle from Bonnie and Bell… and these *coasters*.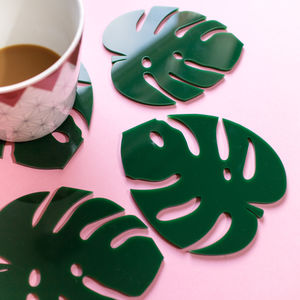 With that itch scratched I'm off to check on my plants. Not that they need it of course. And that's why this succulent and cacti thing is going to be hanging around for some time in my house…