Grey. If in doubt always grey. Or black. Black is good too. And denim I'll let you have, it's a neutral of sorts.
So despite a love of colour, sometimes, when I doubt (or terrified of making the wrong decision) I default. It's my equililent of throwing lots of glitter on it. EVERYTHING is OK if you throw lots of glitter at it, and likewise, if you are in doubt, go neutral.
This not only applies to clothing, though I went MAD yesteday and bought a pink coat… the children said it was like having a giant marshmallow walking around the zoo with them today. I suspect in their mind this may have been an improvement on, you know, there mother… they like marshmallows you see, but whatever their intention, Marshmallow was not the look that I was going for, it also applies to home decor.
Look, it's very easy to fall down a Pinterest hole, and to spend hours pinning all these *beautiful* boho, or dramatic colour led designs. I love nothing more than a shot of colour (red lipstick… I think the interiors equivilent is a jazzy towel in an otherwise pretty neutral bathroom), but on the whole play things very safe. Colour, you see, makes things stand out. There is no avoiding colour, be it clothing or interiors. It's bold. It draws attention in, and, on the whole, these are not things that I go for…
Or so I thought…
Don't get me wrong, there is a whole lot of grey going on. From the floor, to the skirting, and all my furniture seems to be varying shades of grey. However, I'm getting braver. Most of the choices are muted I grant you (soft dusky pinks rather than bold in your face fuchsias), but there is a theme emerging… and it's a more colourful one than I thought.
Wood is also playing a large part in adding some warmth. You see, whites, greys and shades of can be terribly sterile, doctors surgery like, but if you put in some oak, suddenly that adds some depth and lifts it up, and so I'm all about the plain oak doors (saves them being painted too… win win).
So whilst I'm all for the grey, the grey is finding itself some colourful friends. Namely pink, green and blue (and maybe a splash of teal and yellow… but only because the stair runner made me).
It's all the better for it.
Fabric by Romo
Stair Runner Roger Oates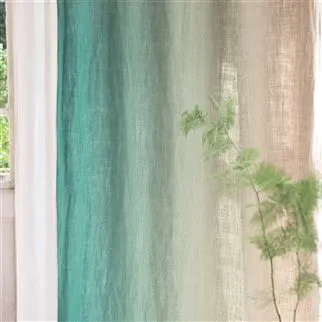 Padua in Turquoise from Designers Guild
Chest in Antibes Green by Annie Sloan (image from Pinterest)