I realised this morning, that it's been a little while since I posted a personal blog, let alone a trademark Feminist rant (fear not, I am attending a 'Jersey Women in Politics' seminar thing on Tuesday with guest speaker Sophie Walker, so I think they'll be one coming pretty soon… I can feel it brewing).
It's not that I haven't started several. The Weinstein scandal certainly got me fired up, not to mention the ongoing Brexit and worldwide political sagas aplenty, but I've started and not finished them. It's not that I don't have opinions on them, but I have found myself a little pre-occupied with, well life actually, to do these tough subjects the justice that they deserve.
I thought about writing an update on the house that we're working on, but seven weeks in, we're still breaking eggs. All the eggs. Just when you think there are no more walls or ceilings to take down, another is gone. Though a couple of lintels got put in this week. Mostly so as the upstairs landing wouldn't fall down.
So instead I have decided to write about how instagram has changed my life! I know! Totally vacuous!
First off, there is the fact that I get to see a load of squares that my oldest friends, who I may not have seen for a year or five post. I know that Facebook can do this too, but I'm a little bit over Facebook at the moment (it's my age). I don't want lots of 'sponsored posts' popping up on my timeline, and I don't want to take a test to tell me what colour aura I have. I want to keep in touch with friends. The end.
Instagram is a filtered way of doing this, it's not real life, but it's a great way to keep in touch and to feel like you are in people's lives still – especially when you don't live very near them anymore.
There has been something of an explosion of instagram being used as a vehicle for business. There have been start ups aplenty suddenly finding themselves profitable and attracting sales and popularity in a way that wasn't possible before with a platform which ENGAGES people instantly, often in the evenings (traditional downtime for retail bricks and mortar retail). Mostly, because it costs NOTHING.
Having owned a small business, when it comes to advertising, historically everything cost a lot. If you featured in a magazine's editorial, the chances were that you had paid for monthly or bi-monthly adverts. It's just how it worked. Likewise with the dreaded Google… adwords and SEO. It was a pit into which many small businesses threw vast sums of money with little real reward. Frustrating.
Perhaps it's just me, in my little bubble, but I don't want to buy from big retailers always. Sure, for essentials like pants, or a plain top, or a wardrobe, then the big retailers have it for me, but actually, I want my clothes, my home, my accessories to not be 'mainstream' but to reflect me. I follow lots of small businesses on instagram from my Not On The High Street days. These businesses and people are brilliant, and imaginative, and I love them. I also love Holly Tucker's newest business Holly & Co, because it's all about remembering where you stuff comes from, and buying small. Small is interesting you see. Niche is good.
And this is where instagram comes in.
Now, it's not perfect. It's a minefield of what's a paid for post versus someone's actual personal loves (and gifts, and discount code) but it's all becoming clearer, and a sort of self-regulatory thing is cropping up. I use Pinterest a lot for design ideas, but really interestingly quite often, you just get a picture, with no possible hope of finding out where you can buy something. This is annoying. Even image searches yield a bounce back to Pinterest, and should you ever get lucky, turns out that light fitting you lusted after is in fact designer, from Italy, and costs £7000. True story.
If on instagram you follow someone, then 'the algorithm' (itself not faultless) will ping you images that you might like. And it is through this that my eyes have been opened to a world of EVEN MORE small, independent retailers that actually create what I want to have. What's even better is that unlike etsy (whose search function yields a lot of tat as well as some lovely bits), and unlike when I click on a news link on Facebook, only to find all my news feeds on Facebook validating my opinion, the algorithm funnels and refines my taste so that I actually get shown things I actually love.
Instagram is a business – I am not naive. I am being advertised to. Through 'collaborations' (read you scratch my back, I'll scratch yours), through 'features,' through 'stories.' I know this is advertising. But this is advertising that lets the little guys get exposure in a way they couldn't before. And a note about the little guys – you aren't going to get service like if from the big guys. Instagram enables me to actually stick my 'buy small' mantra, and really, well buy small.
So I thought I'd show you three of the brands and companies that have come into my life in the last twenty-four hours who I would NEVER have heard about without the 'gram.
Helo birdie – a copy of this print is winging its way from New Zealand to Jersey thanks to Instagram (£15, click the link through to the Etsy shop from the Instagram page)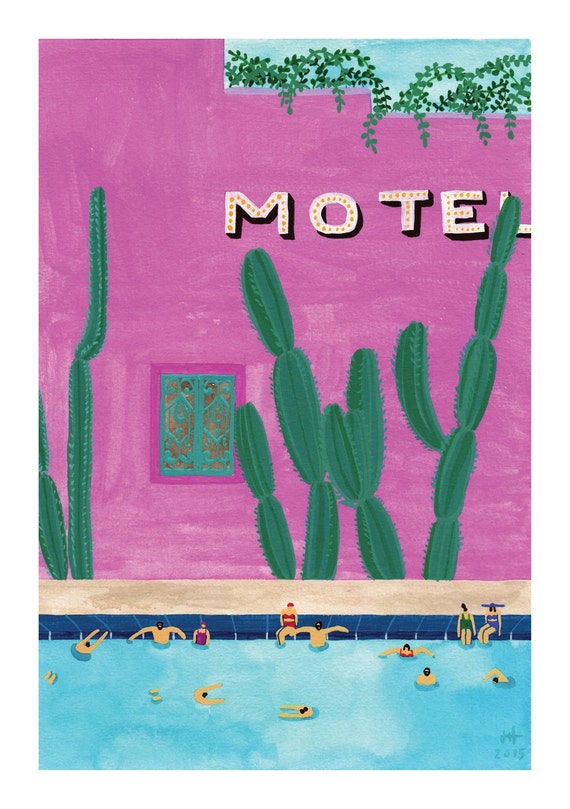 Divine Savages I can't even talk about how much I love the wallpaper. I love some of the bigger wallpaper brands like Cole & Son, but I don't want wallpaper that you might see in a pub loo. I want these ones. This is a new company launched a month ago, and I've already heard about it. This Geometric Aviary wallpaper is just gorgeous.
George & Willy (they have 24K followers, so I am late to the party) I have decided that I need this for the kitchen…