I'm not. Nor is Mr R. It ends in all manner of tension. Once, when in my ultimate wisdom I decided I wanted to put the dado rail BACK in the hallway of our first house, with a traditional striped wallpaper above, and a gold toned paint below (yellow, it was a sort of tired yellow in the end), I enlisted his help. I marched off to Homebase and selected my dado, and I bought it back with a tube of No More Nails. And I left him to it. I can't remember where I went, it must have been somewhere important…. I returned, and the football was on, and he was having a self-congratulatory beer to celebrate his DIY prowess (I'm not sure either of these things are true, but it's Friday morning, and I'm out of original ideas, so will plump for the Platonic Ideal of what a-man-who-has-just-done-diy might look like, apologies for the cliche, nay, casual sexism…). Anyway, the beer was premature as Mr R had taken his measurements for fixing the dado rails from the top of the skirting board, not the floor. You know Victorian skirting boards… not renowned for their uniformity. There was a good 5cm difference in the height of the rails, whereupon we both ripped one off, bringing with it the dado, No More Nails, and quite a lot of plaster. You live and learn.
However, I've been on the search for a Chandelier/light fitting for a Master Bedroom, and I'm struggling. And this little voice is telling me that maybe, maybe what I want doesn't yet exist. And maybe, maybe I need to make it.
I've made a light before. Well a shade. I made a shade. On a trip to St Malo a couple of years ago I fell in love with a light from Volieres, but was somewhat taken aback at the price. Ha, thought I, I can totally make that! In ever fashionable copper! All I need is some floristry wire, a shade, some birds, some wire and copper spray!
This is not the light I made. This is what I wanted it to look like. With cuts from the sharp edges of all the copper cage all over my hands, I bled on quite a few of the birds. And it just looked… a bit rubbish. Whilst I could never justify the £425 this costs (Graham and Green if you can), I probably spent at least £45 (not to mention literally blood) creating a slightly rubbish homage. Which went to the dump when we moved house. I kept the birds though. They are somewhere in a box that I haven't unpacked yet.
But I have come on since then! So it is time to go in once more!
The light in question is for a Master Bedroom. It's to hang from the centre point of a vaulted ceiling over the bed, so it needs to have some drama, and it needs to have some size. But most importantly, it needs to feel quite delicate. Without being flouncy.
And so I settled on clay. More importantly porcelain, aka the diva of the clay world.
I have never worked with porcelain before. I was lucky enough to do a class through the now defunct Bromley Adult Education with Sophie Southgate who pours porcelain into molds and creates the most amazing vessels. Mine didn't look anything like hers, but I had fun. And I learnt that porcelain is a tempremental clay body that doesn't like to be messed about with. In theory, we should suit each other very well… it is basically me, in clay form.
There is a reason that porcelain is used in the final of The Great British Throwdown. It's hard to work with. It's an incredibly fine clay, and it handles so differently from others. It shrinks a lot more, it moves a lot more, and it's very hard to master… but when fired, and when lit by candle or artifical light it gives the most wonderful translucent finish. Almost a bit ethereal (this is available from Notonthehighstreet.com)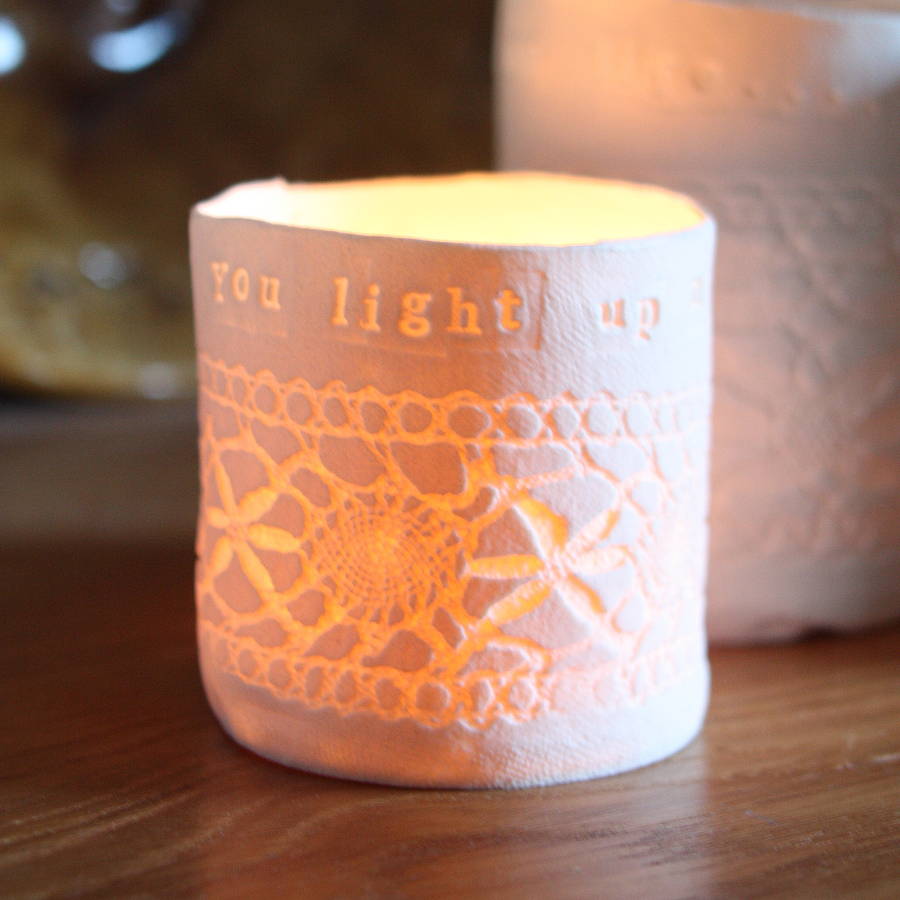 When I've been looking at light fittings, the shape has been the first port of call. Must be long. Must be dramatic yet not heavy. Must be tiered.
This amazing light from Tom Raffield is the perfect shape though too big, and the wrong material. 1/3 isn't bad. It is hand crafted and beautiful, but not cheap. (£2450, www.tomraffield.com this is the Giant Flock Chandelier)
This light from Pooky also ticks some of the boxes; The Starsky Chandelier. But despite all it's gorgeousness, it's a little too heavy. (£430 Pooky.com)
This Capiz Chandelier (found on Pinterest so no link) is getting much nearer the mark. It's not quite wide enough, but the shape and the drop are perfect. Sadly, as it's found on Pinterest, that means it is a mystery product that I can't buy. Also, whilst I love capiz, I want this one to be less predictable. I want it to look beautiful but still be a bit of a surprise.
But using that as my starting point, I have ordered a tiered chandelier base from Dannells which should give me the structure that I'll need. I've opted for the largest one, a four tiered base 70cm, 60cm, 50cm and 40cm.
The plan then is, using the diva clay, to create (probably) hundreds of lace imprinted pieces of porcelain in three sizes to hang at random from the base. This will create a unique and beautiful porcelain chandelier. Or a load of Christmas decorations if it looks rubbish (NB I will not be cutting them into shapes, am aiming for an organic look, as though pieces of fabric had been turned to… well porcelain actually)… I will update you when all is finished…