I have spent the best part of the last two hours looking for melamine tableware for the garden. And I probably should have prefixed that with nice. I have spent the best part of the last two hours looking for NICE melamine tableware for the garden. And I am having some trouble.
Since I started dabbling (nay, became hooked on) all things ceramic, I've started to pay ridiculously close attention to all things crockery. I have been known to turn over saucers to check the maker if I like a glaze, or even ask where a vase on a table is from (the answer is never, ever, Ikea sadly). This weekend – and I don't like to boast, but you know, perhaps I will – was pretty glorious over here in Jersey weather wise. There were surfing lessons for the girls (and for me, including some sort of shoulder/elbow/God I'm rubbish injury… less said the better); wine and Eurovision, and – on Sunday – more surfing, and then back to the house to whip out the Barbecue for the first outing of the year. Well we would have done. If we'd remembered to get the gas. So it was hotdogs cooked in the kitchen and EATEN in the garden. Which isn't the same thing at all, but holds less risk of food poisoning. Probably. *Looks sheepishly round her not-exactly-tidy-kitchen*.
We have a few rules in the garden. First off, don't leave it. Second, steer clear of the free-standing conservatory (that is as hideous as it sounds) as that is where I have set up my studio (or, as Mr R calls it, 'the pit' where I am supposed to contain all my creative mess… trouble is, doors. It leaks. Mess that is. Thus far it appears to hold up as a watertight shelter). Supervised you too can come in and make a mess. But most of all the rule we have is NO GLASSES OR BREAKABLE PLATES as it's nice to only worry about running on a bee or something stingy rather than smashed glass or crockery. Which is all fine and good, until you realise you have no non-glassware glasses, and certainly no non-ceramic based plates. Beer also tends to come in glass bottles. The nice beer anyway…. And this is how I have found myself banded from pillar to post (or website to website) in search of the Holy Grail that is tasteful melamine. Tasteful melamine which does not feature pineapples or flamingos halves the options available*.
* For the record, I love both pineapples and flamingos, I just fear that they may date and be soooo 2017 in but a season's time. Rather like loom bands make 2013 look. Or the stupid fidget things that are driving me up the wall and I will not buy for the children.
The thing about living in the UK is, there are about five, possible six days a year (rarely on a weekend) where the weather system Gods align to enable you to eat out al fresco without suffering from mild hyperthermia (that is why we fire-pits! And gas heaters! And gloves!). We are British, so my word we try and brave it out, but let's be honest… it doesn't always happen. And when – several beers/rosés/cocktails/soft drinks in, the heavens open and we need to relocate to the kitchen (the best parties ALWAYS end up in the kitchen). It's enough that much of the garden ends up being walked into the house by accident on flip flops, the last thing we want to be doing at this stage is pile our arms high with ceramic plates, embracing our inner waitress whilst balancing half-gnawed chicken legs and ill-judged mostly uneaten portions of inedible pasta salad that Alison down the road bought along, only to drunkenly drop them all, probably cutting our flip-flopped or bare feet, and certainly ending the 'complete set' of eight plates that the host got for their wedding in 2004 usually reserved for best, but that they bought out when some extras rocked up, the softening of the booze softening the 'for best' status.
Look, it sounds like the kind of party I want to be at, but, for the two times a year you get to do garden entertaining, embrace the plastic. The plastic plates, the plastic platters, the plastic glasses. They don't break, they weigh less. And if there's a pond (we don't have one of those, but if we did, stuff would end up in it), then you'll still find them bobbing on the top of it tomorrow morning, along with anything else that ended up there (don't ever dredge a garden pond with a good host…. or perhaps do… perhaps that could be a new sort of reality show. I'm trademarking it now. Party-Pond-Dredgers. I think it has a certain ring to it).
Melamine shopping has been deceptively tricky. It turns out that it's not considered cheap and nasty now. Some of it is cheap and nice. Some is expensive and nasty. And obviously I fell in love with a set from Anthropoligie that was just expensive (well, for plastic plates that will be used twice a year max). Sigh. Perhaps it will be in the sale in August, but by then we will have had the one day of summer and I'll have forgotten that I needed them. Them. Is. The. Breaks. But should you be prepared to spend more on your plastic plates than you do your plate plates, then here's what I'm talking about. Swoon.
Tula Melamine Dinner plates from Anthropologie £10 each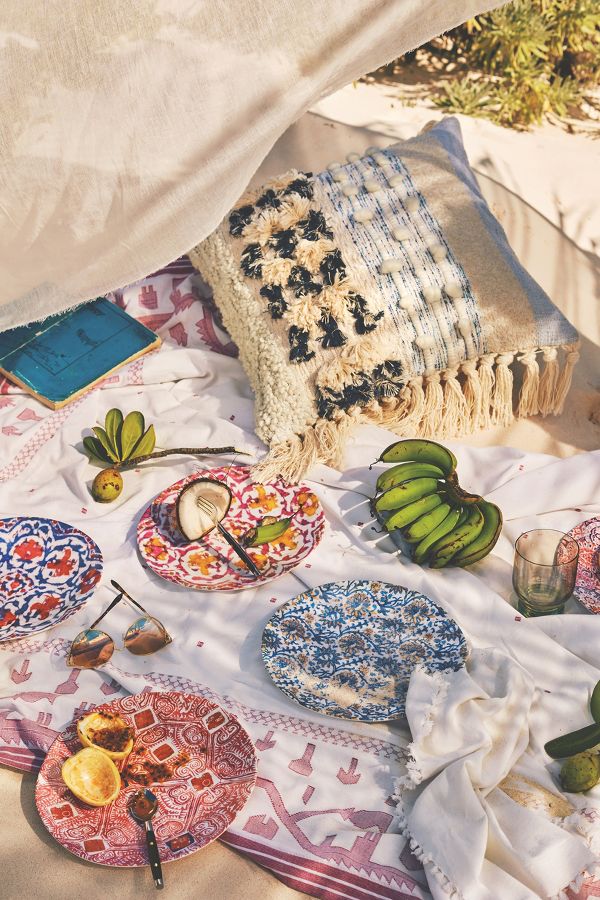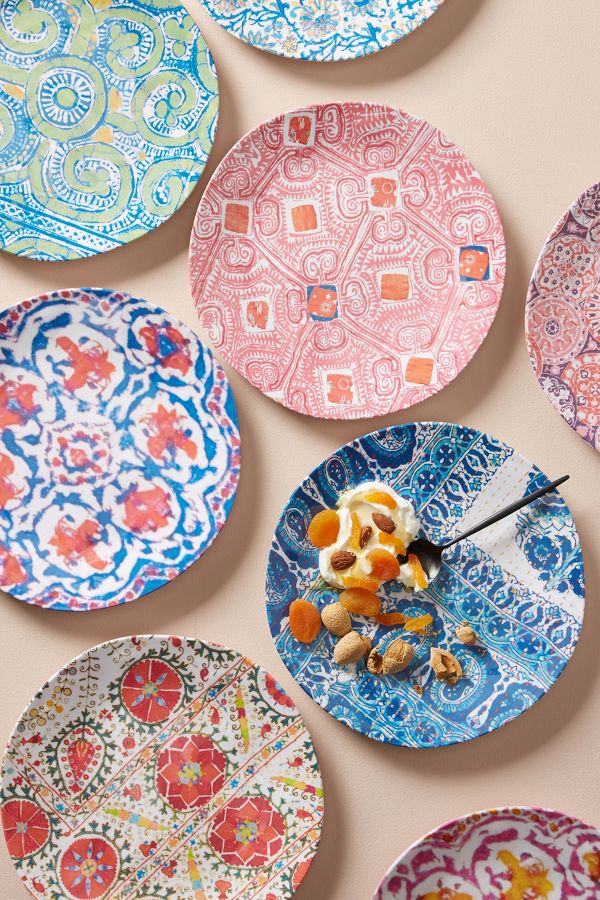 Marks and Spencer seem to have pretty much nailed the melamine market this year. From their beautiful safari inspired designs, to the nautical sea-faring as well as floral and imitation crackle glaze, you could do far worse than flex the plastic, on, well some plastic from them. The problem is – and this could just be me – what I want from my plastic-earthenware (my new favourite oxymoron) is to feel as though I am on some gorgeous Greek Island. Or eating out under a pergola in Morocco somewhere. I don't think I want 'on trend' safari animals or nautical. Well not now I've found them anyway…. had you asked an hour ago, perhaps the safari trend plates would have been exactly what I wanted. But now they feel, well, too easy. They're great however, as they come with matching bowls and side plates too. And by side plates, I mean child sized plates. £15 for four.
Set of four dining Safari plates £17.50 from Marks and Spencer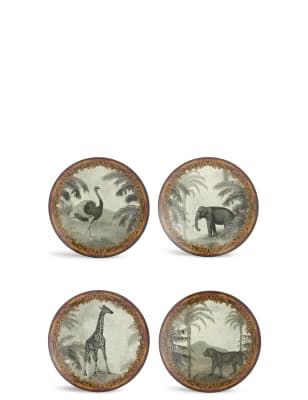 Set of Four Nautical Plates £17.50 from Marks and Spencer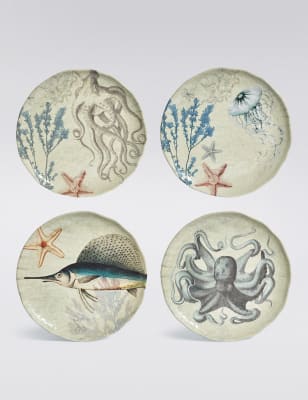 Frida plates from Marks and Spencer (trays, cups and bowls also available, £4.00 for a dinner plate, £3.50 for a side plate)
Side plate pictured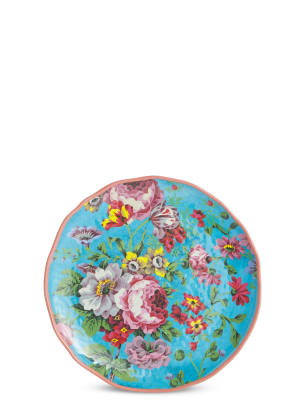 But, if you're looking for less of a statement, and to be honest, what I'm after is something that looks all mediterraean that would look perfect piled with olives and chorizo as well as crisps, then things get a little trickier… I quite like things to have a mis-matched vibe (and yet to obviously all stack neatly into the dishwasher, so only a bit rustic), and did look at some faux crackle-glazed options… Dunelm Mill has these beauties at £2.50 per dinner plate, £2.50 for a bowl, and £2.50 for the side/kid plate.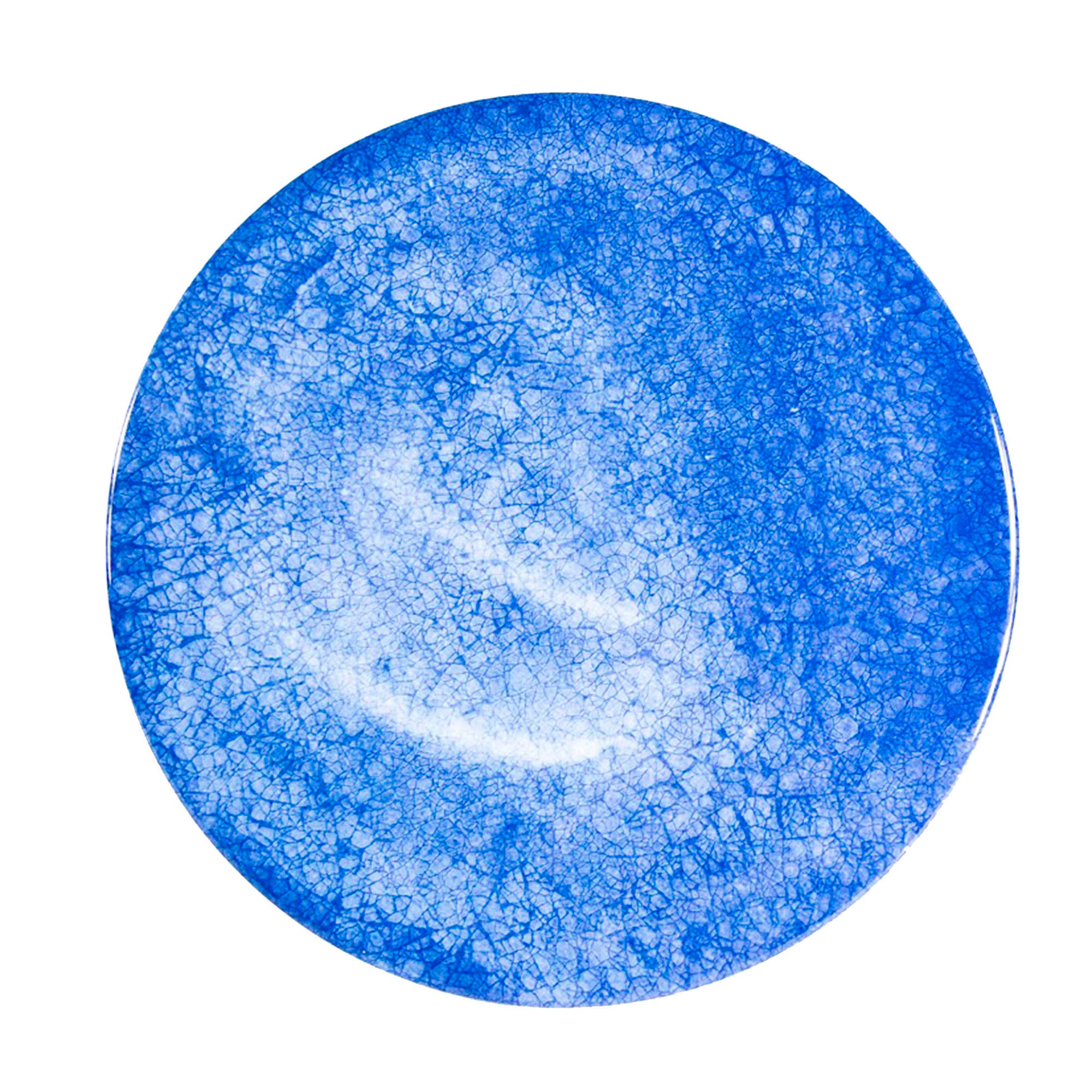 And I wonder, truly, can you ever REALLY go wrong with just plain white? Get the mis-matched vibe from the cushions and what not instead? Or is that just a total flipping cop out? And do they just look… well, plastic? Because that's not the look I'm going for (Dunelm Mill again do a really reasonably priced white set, £5 for serving bowl, £2 for dining plate)
This is the taupe crackle glaze from M&S which I wonder might be the perfect mix (also comes in aqua) £3.50 for a dinner plate.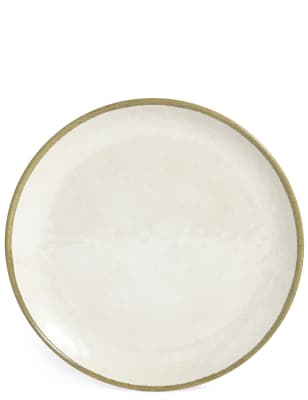 Rapidly, I am becoming the Goldilocks of melamine. Probably not a sentence previously written in the English language. It has to be just right – if only because I have now given too much of my life over to it (I haven't even got onto plastic and acrylic glassware yet… perhaps a follow on post tomorrow for that).
And then I found an American site while browsing on Pinterest (yes, that counts as research), and lo, I lost an hour of my day. And then put it into pounds. And suddenly Anthropologie looked bargainous after all (not something I had forseen writing). This is the Ibiza set. Yes, it's too gorgeous for me. Four dinner plates £57. And it's still just plastic.
The Ibiza set from Frontgate.com. And this is what I have been looking for. But I can't have it.
Ok, so I found another version on their site that was nice too. Not as nice, but a happy middle ground.. and then I went throught to checkout. And lo, shipping was £97 and taxes £45. It's amazing how quickly you can get over something….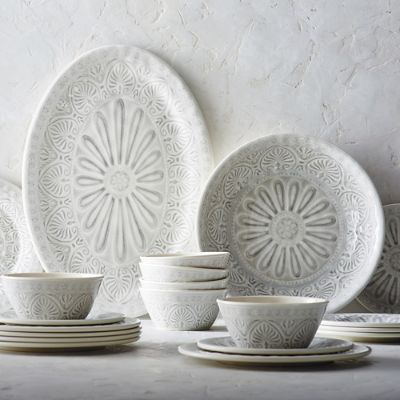 I have, however, just had an actual, bone-fide breakthrough. Debenhams. I KNOW. Deb-en-hams (John Lewis failed me). And shhhh regarding the pineapples. They're subtle. Not the gold one in the styling, but the ones on the plates. And you barely notice the Flamingoes right? A set of four dinner plates is currently £17.60 in the home event. Free delivery. No tax.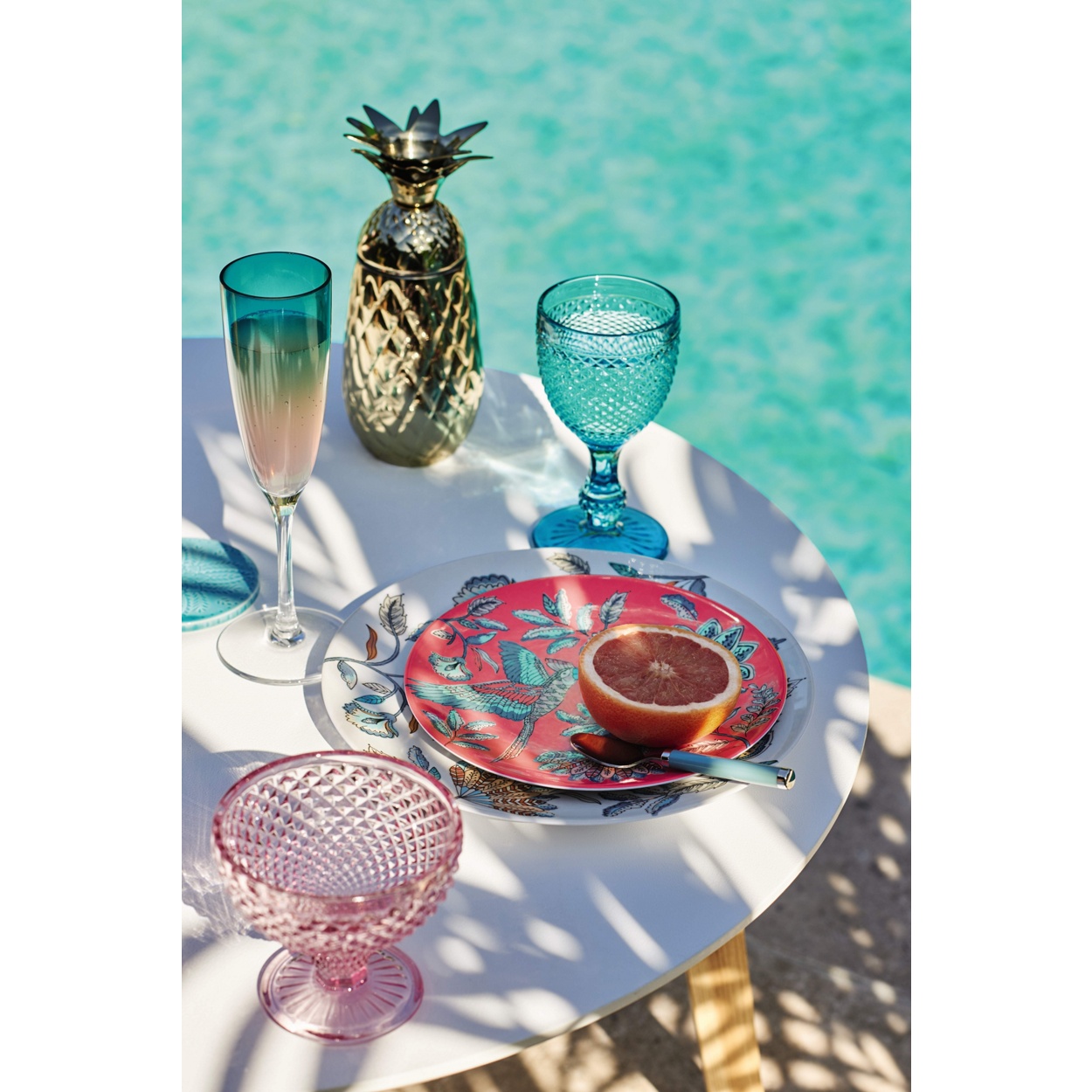 Matthew Williamson Serving Platter £12.00 *CURRENTLY DOWN TO £9.60*
Matthew Williamson Salad Bowl £15.00 *CURRENTLY DOWN TO £12.00*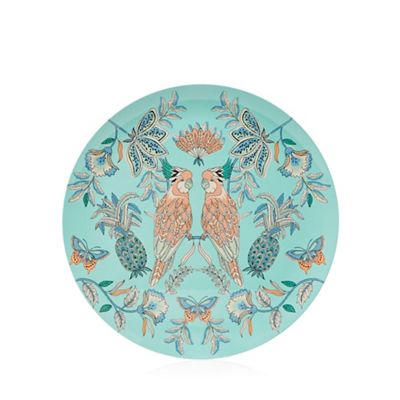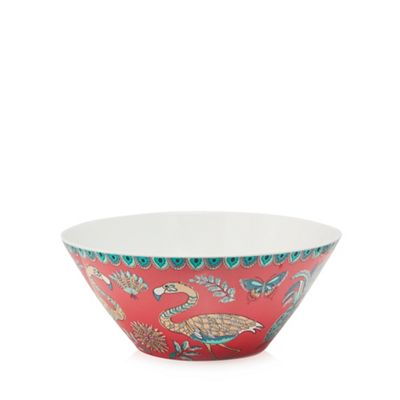 But what I want, is texture. I want the plates to look like they are anything other than flat mass produced plastic. But I don't want to pay for that. I've even gone off the Anthropologie ones now. That Ibiza set with the prohibitive price tag and prohibitive shipping just won't leave my mind…
And, with that in mind I went for these from Souschef.co.uk (VAT removed for me too as it's shipping to Jersey). And that way, I can get some very fun serving bowls and glassware. When I stop thinking about those prohibitively expensive plates that I loved. First world problems eh?